I am excited to share with you this simple Baby Blanket.  The entire blanket is made using a Half-Shell Crochet stitch.  This is modified from a pattern I found years ago on the web.  I don't have the source to credit the original pattern.
For this blanket, I used 4 different colors of the Lion Brand Feels Like Butta Yarn – two skeins of each color are required.
Blanket Size:  26″ x 28″
Hook Size:  F
Abbreviations:
CH:  Chain
SC:  Single Crochet
DC:  Double Crochet
I chose to alternate colors every 8 rows, but you can make your own pattern.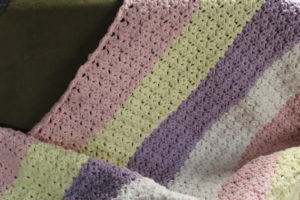 Base Row:  Chain 100  (Your base row needs to be a multiple of 3 + 1)
Row 1:  Double Crochet in 4th chain from hook, CH 2, Single Crochet in same chain as last DC, * skip 2 chains [2 DC, CH 2, 1 SC] in next chain; repeat from * to the end of the row.  CH3, turn.
Row 2:  In the first Chain 2 space [1 DC, CH 2, 1 SC]. * In the next Chain 2 Space [2 DC, CH 2, 1 SC], repeat from * to end of the row.  Chain 3, turn.
That is all there is to the pattern!  You simply use a double crochet and single crochet to create an adorable blanket!  Watch video here.
About DIY on the House
Welcome to DIY on the House.  We are dedicated to helping the 'Average Joe' fix and repair everyday household items.  Our family is blessed and fortunate to have generations of talented people that have taken the time to teach us their craft.  We are using the YouTube platform to pass along that knowledge to you.  Check out our other craft and home repair videos on our YouTube Channel:  https://www.youtube.com/diyonthehouse — if you ever have any questions, let us know diyonthehouse@gmail.com
Adding Edging to Base Row
In the video, I refer to adding an edging to your beginning row.  Here is a diagram that will help you make that happen.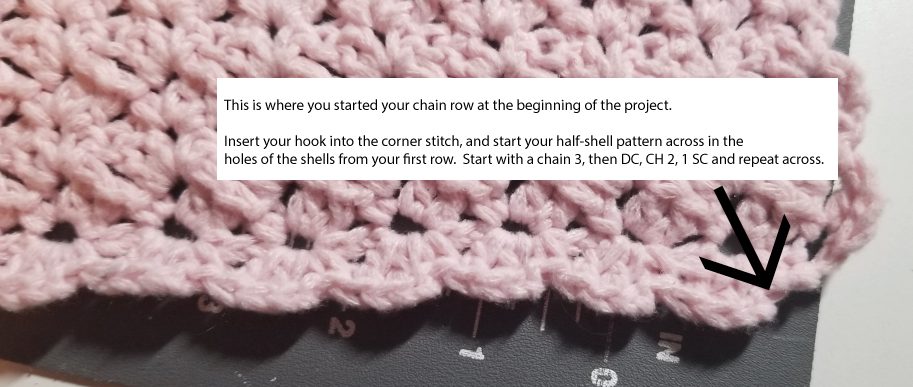 HOW TO CROCHET FOR BEGINNERS
If you missed our video on How to Crochet for Beginners, I have included the video below.