Our family has been using wood as our only heat source since 2005.  Initially, we had one wood-burning stove that we used to heat the entire home.  In 2015, we remodeled our master suite and added a second wood burning stove in our bedroom.  We love the radiant heat from a stove!
It goes without saying, it takes work to heat your home with wood.  Although, the economical trade-off is worth it.  We are fortunate to get our wood for free from a tree trimming service that gives us their unwanted wood.  We then cut, split, stack, and burn . . .  all for free.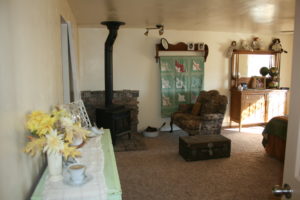 No matter what kind of wood you burn, you will need to clean your chimney to prevent a chimney fire. We clean ours approximately ever 4 to 6 weeks, depending on how many consecutive cold burning days we have endured.  We know it is time to sweep the chimney when smoke rolls out of the stove door when you open it.  We also know it is time when the chimney pipe inside the house sounds solid when you tap on it (when it is empty it is more of a ting sound when tapped).
Below the steps required to clean a chimney.  In addition, we have made a video that demonstrates how to clean a metal chimney flue for a wood-burning stove.  We understand that your set-up may vary from the one in the video, but hopefully the information will still be helpful.
Use this numbered list, along with the How-to video, and you should be able to clean your own chimney like a pro.
Do not have a fire in your stove, coals are okay, but no fire.
Close all vents on your stove.
If you have fire brick blocking the chimney pipe intake, move those out of the way so the creosote from the chimney sweep can fall into the stove.
Go to the roof and remove the chimney cap.
Tap and scrap the creosote from the cap.
Run a poly brush for metal chimneys, or a steel wire brush for other chimney materials, that is attached to a fiberglass rod up and down your chimney approximately 3 times.
Put back on the chimney cap.
Reset fire block in the stove or remove debris from 90 degree inlet on a rear vented stove.
Remove the debris from inside the stove.
Congrats, you have now swept your chimney.  If you have any questions, let us know, we would love to help  diyonthehouse@gmail.com.
Thank you for joining DIY on the House.  We have more videos planned in the future.  We would truly appreciate you subscribing to our DIY On The House YouTube Channel so you can be in the loop on more DIY tips!
Tools necessary to clean your chimney are minimal and are available on Amazon.