I loved this project!  It combines quilting and crocheting to make a beautiful project!
Step 1:  Cut and Sew Squares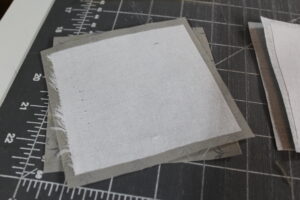 Cut two 4 1/2″ squares of cotton fabric, apply fusible interfacing to one piece of the fabric.  I use wovenFuse from GotInterfacing.com.
Sew along three sides, turn inside out, and close open side of square with top-stitch.
Step 2: Blanket Stitch Squares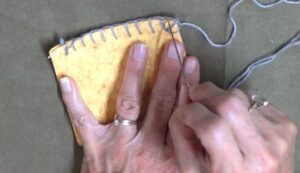 I use silky textured yarn, something that isn't very bulky would be a good choice.
Blanket stitch around each square.  Stitches are approximately 1/2″ in off of the edge, and 3/8″ apart. Watch the video to see how to do the blanket stitch.
Step 3: Crochet the Edge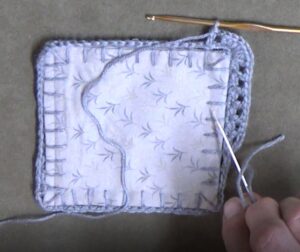 To begin the first round, chain 1, 2 single crochets in each gap (bar) created by the blanket stitch (only do one sc in the first bar, your chain one counts as one of the sc).  On the corners, 2 sc in bar space before corner, 3 sc in the corner bar, 2 sc on the bar on the next side), join with slip stitch to beginning sc.
Round 2:  Chain 4 (this counts as a dc + chain), Double Crochet above the blanket stitch post on the fabric, lining up you Double Crochet to the blanket stitch.  Chain 1, Double Crochet above next post, repeat around square.  At the corners, 7 Double Crochets around the corners (2 on each side, and 3 in the corner).
Step 4:  Join Squares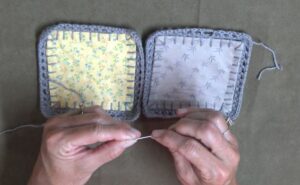 Match up the corners of your squares and use a needle and thread to join the squares together with a whipstitch.
Press your project, and stand back and admire a project well done!